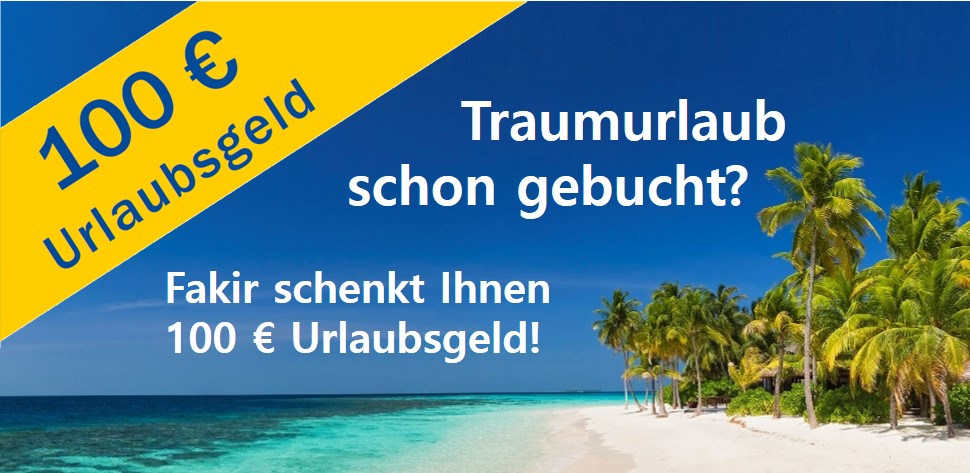 HOW IT WORKS:
You can compare the daily travel prices for your dream trip on www.fakir-reisen.de and save up to 30%*.
Book a package or last-minute trip (in this case, the combination of flights and hotels from the same tour operator) or a cruise through www.fakir-reisen.de or call +49 (0) 7042 / 912 912.
Enter the travel coupon code and receive €100 holiday money credited to your account about 1 week before the trip - provided that the full payment for the trip has been made and no cancellation has occurred.
Cash refunds and legal recourse are excluded.

TRAVEL COUPON CONDITIONS:
The minimum value of your trip must be €499.

The booking must be made by December 31, 2022 - the trip can take place at a later date.

Last-minute trip combination from a tour operator means at a total price and a total invoice.

Only one coupon is allowed per booking.

Redemption through another travel agency or the tour operators directly is not possible.

Only available while supplies last.
In addition, the terms and privacy policies on www.fakir-reisen.de apply.
CONTACT:
Fakir
c/o Travelcheck GmbH
Your travel team for Fakir
Otto-Lilienthal-Straße 12
49134 Wallenhorst
Tel: +49 (0) 7042 / 912 912
Fax: +49 (0) 7042 / 912 998 912
Email: urlaub@fakir-reisen.de
Web: www.fakir-reisen.de/
*More information at: www.fakir-reisen.de/info/bestpreisgarantie